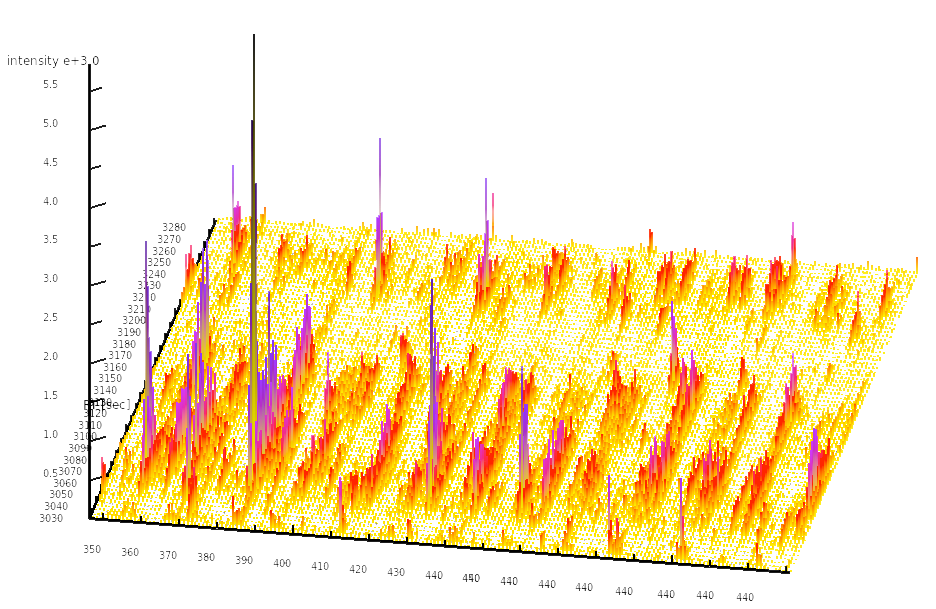 Mass-spectrometry based quantitative proteomics allows researchers to accurately quantify the dynamics of protein abundance and protein activity in biological systems. In order to increase the quantitative accuracy and the throughput of proteomics methods, we have developed a novel targeted proteomics method called SWATH-MS that is based on data-independent acquisition (DIA) which aims to complement traditional mass spectrometry-based proteomics techniques such as shotgun and SRM methods. In principal, it allows a complete and permanent recording of all fragment ions of all peptide precursors in a biological sample and can thus potentially combine the advantages of shotgun (high throughput) with those of SRM (high reproducibility and sensitivity).

To analyze the SWATH-MS data, we developed OpenSWATH, an automated software to perform targeted data extraction from the SWATH-MS maps. Our software allows to perform automated data extraction, peak-picking and feature-detection in chromatographic traces, thus performing a complete SWATH-MS data analysis completely automatically; the only input are the raw MS/MS files as well as a transition library to perform the targeted data extraction. After feature detection, we use the mProphet algorithm for error rate estimation.
Using SWATH-MS in conjunction with OpenSWATH, we have successfully quantified over 900 proteins in the pathogen Streptococcus pyogenes in a single LC-MS/MS injection (more than any previous study), allowing us to study the response of the pathogen to human blood plasma in unprecedented detail. We also could quantify over 1900 human proteins in an AP-MS pulldown experiment and identify over 500 high-confidence physical protein-protein interactions of the 14-3-3β scaffold protein, giving us direct insight into the dynamics of a large protein interaction network.
Relevant publications:
Röst HL, Liu Y, D'Agostino G, Zanella M, Navarro P, Rosenberger G, Collins BC, Gillet L, Testa G, Malmström L, Aebersold R. TRIC: an automated alignment strategy for reproducible protein quantification in targeted proteomics. Nat Methods. 2016 Sep;13(9):777-83.
Guo T, Kouvonen T, Koh CC, Gillet LC, Wolski WE, Röst HL, Rosenberger G, Collins BC, Blum LC, Gillessen S, Joerger M, Jochum W, Aebersold R. Rapid mass spectrometric conversion of tissue biopsy samples into permanent quantitative digital proteome maps. Nature Medicine. 2015 Apr;21(4):407-13.
Rosenberger G, Koh CC, Guo T, Röst HL, Kouvonen P, Collins BC, Heusel M, Liu Y, Caron E, Vichalkovski A, Faini M, Schubert OT, Faridi P, Ebhardt HA, Matondo M, Lam H, Bader SL, Campbell DS, Deutsch EW, Moritz RL, Tate S, Aebersold R. A repository of assays to quantify 10,000 human proteins by SWATH-MS. Scientific Data. 2014. Sept 16.
Röst HL, Rosenberger G, Navarro P, Gillet L, Miladinović SM, Schubert OT, Wolski W, Collins BC, Malmström J, Malmström L, Aebersold R. OpenSWATH enables automated, targeted analysis of data-independent acquisition MS data. Nat Biotechnol. 2014 Mar 10;32(3):219-23. doi: 10.1038/nbt.2841.
Collins BC, Gillet LC, Rosenberger G, Röst HL, Vichalkovski A, Gstaiger M, Aebersold R. Quantifying protein interaction dynamics by SWATH mass spectrometry: application to the 14-3-3 system. Nat Methods. 2013 Dec;10(12):1246-53. doi: 10.1038/nmeth.2703.
Gillet LC, Navarro P, Tate S, Röst H, Selevsek N, Reiter L, Bonner R, Aebersold R. Targeted data extraction of the MS/MS spectra generated by data-independent acquisition: a new concept for consistent and accurate proteome analysis. Mol Cell Proteomics. 2012 Jun;11(6):O111.016717. doi: 10.1074/mcp.O111.016717.